FAQ
These are some of the frequently asked questions. We can also answer questions during our initial free consultation. We are a proud member of
Angie's List
since 2009 and Pet Sitters International.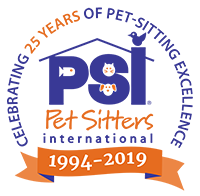 Are You Licensed and Insured? A complete background check has been done on Angie's List. We provide professional pet sitting services, and are licensed, bonded, and insured. We are "Senior Certified" and have over twenty years of experience. We are a member of Pet Sitters International, the world's leading educational organization for professional pet sitters since 1994.

Why do you require a consultation with the clients and their pets? We are a professional service that wants to ensure that not only the client and pet sitter get acquainted, but also the pet sitter and the pets. A client must feel secure in the knowledge that their pets will receive the very best in care while they are away. The meeting gives the pet sitter a chance to discuss specifics about the care of client's pets and ensure the proper documents concerning the services get filled out completely. Consultations are always free to the client. A consultation for home visits and overnight stay takes place at the client's home.
What is a pet visit? A visit is when we come to your home to care for your pets. A visit lasts at least 30 minutes, sometimes longer based on the needs of the pets. In that time frame, we take care of all of the duties as discussed with the client and spend some quality time with the pets, petting, playing, whatever makes the pets happy!
Who will be taking care of my pets? Claudia's Cloud 9 Pet Sitting owner, will be taking care of your pets for pet visits and exclusive boarding. In case of emergency, there is a back up pet-sitter that will care for your pets. The client's pets are always our first priority.
What if I have special needs for my pets? We customize the care for your pets. No problem! We have many clients that have special needs for their pets, including special meals, medications, and more!
What if I want to check on my pet while I'm away? You can call us at any time to see how your pets are! We also offer a daily call to anywhere in the U.S., or a daily email to keep you posted on how your pets are doing!Angie's list
What if I get delayed in my travel and can't make it back in time before the end of the pet sitting contact? We will never leave a pet uncared for. Let us know about the changes, and we will continue to care for your pets until you return. The normal fees for the services you choose will apply, and payment for the services will be due on your return home.
What are Your Service Areas? Service areas include Studio City, North Hollywood, Burbank, Hollywood Hills,Toluca Lake, Universal City,and other areas by special arrangement.