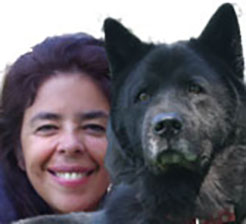 Why We Love Our Work - My Story
Hi, I'm Claudia Gil, owner-operator of Claudia's Cloud 9, a business dedicated to caring for pets. I have experience with animals from the age of 4, when my family took me to look at a family friend's Toy Poodles litter and let me choose my favorite. A pure black female puppy won my heart; we took her home and named her Lady.

After that my love of animals increased by leaps and bounds. Following Lady came Billy the Tortoise, Max and Sugar the cats, Scratchy the Rabbit, Tanya , Jesse, Rocky and Blazer, the rest of the pack of dogs. They brought joy to our household along with our parakeets, Tom and Jerry, who loved to sing all the time whenever the sun was out. That's a lot of the time, considering I've always lived in sunny California.
My whole family shares this love of animals and some members have become professionals in the field, loving every minute of what they do.
I have been a business/sales professional for 22 years and always enjoy being of service in every job. But I was missing something. Each work day I would drop off and pick my dog Ki up after work, wishing I could be with him and concerned he wasn't getting enough exercise. We enjoyed weekend park trips, but he needed more exercise during the week. In addition to long-term pet care experience, I have been house-sitting for friends, family and referrals since I was a young woman. Since I always felt useful and satisfied in these endeavors, I decided to start my own business, taking the plunge and following my passion.

That brings us to the present with my business, Claudia's Cloud 9, where I bring my love, affection, and understanding to your pets and all members of the animal family. It gives me great pleasure to be your loving, care-giving set of eyes for your pets when you have to be away from them, and when you come home again your pet will reflect the reliable, responsible, healthy atmosphere that is the first priority at Claudia's Cloud 9.

On the Testimonials page you will see why others love our work also.
""Claudia's Cloud 9 is the only place we would entrust our precious dogs. She is thoughtful, kind and especially great with older dogs and their special needs. Claudia goes above and beyond in the service and support she provides. Much more than an animal caregiver she has become an extension of our family." - - Russel A.
Cordially,
Claudia Gil
Owner, Claudia's Cloud 9