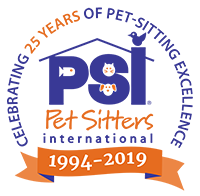 We provide professional pet sitting services, and are licensed, bonded, and insured. We are "Senior Certified" and have over twenty years of experience. We are a member of Pet Sitters International, the world's leading educational organization for professional pet sitters since 1994.

Our services are designed to be a la carte or custom tailored for your specific needs. The rates below are guidelines and we consider them to be very fair based on the quality of care and the travel time needed to be at your home. These rates include an initial consultation at no additional charge, which we require in order to make sure all the bases are covered with your needs for pet sitting.

RATES (include FREE CONSULTATION)

One 15-20 Minute Visit:
Potty break - $20.00

30-Minute Visits:
One visit a day = $23.00
Two visits a day = $42.00
Three visits a day = $61.00

45-Minute Visits:
One visit a day = $28.00
Two visits a day = $60.00

60-Minute walks: $33.00


Overnight rate = $75.00 for 12 hours/$85 for 14-15 hours
Includes=2 walks, Feedings, Meds if necessary, Bring in Mail Water house plants, Take out Trash, Pick-up newspapers.
2 dogs per household on above services, $5.00 each additional dog.


24 Hour Care = $150 with a 4 hour personal break. Usually broken up in the 24 hour schedule.

Taxi Shuttle = $17.00 within 10 miles.
No mileage charged for clients within a 5-mile (one way) radius.
Each addition mile after that is 50 cents a mile or gas market price for all services.

Key pick-up/drop-off = $7.00 (First-time clients exempt)

Pickup Food/supplies =$12.00

Vet Visits = $30.00 Usually Vet visits take a couple of hours.

HORSES (Feed, muck, med, and walk) and BIRDS, please call for prices.

CATS ARE WELCOME @ $17.00 20 MIN. VISIT. $20 A 30 MINUTE VISIT
Feed, change water, clean litter box, play and some medications. Please call for any special questions.

DOG HIKES
We can burn off that excess energy! We will take your pet on the excursion of your choice.
60 Minute Hike: $37.00
90 Minute Hike: $47.00
*Includes travel time - IMPORTANT !!!
Please check your dogs paws after hike for foxtails, etc.

Additional Dog Hiking Fees:
$10.00 for second dog from the same household

Discounted rates on 5 days a week visits.
House Care Only:
Plants--Mail--Trash-Alternate lights
Newspaper Pick-up =$17.00
No mileage charge for clients within a 5-mile (one-way) radius.
Each mile after that is charged at a rate of 50¢ per mile or gas market price.
For all services
TERMS & CONDITIONS: Visits include Feeding, Walks, and Meds if necessary, Bring in mail, clean up after pet. Water houseplants. Take out Trashcans. Choose considering time needed
Outside large yards extra charge, (will check out size).
CANCELLATIONS
25% 3-day notice
50% 2-day notice
75% 24 hours notice.
100% same day notice